Oppa and I wanted to take a short break from dramas. We just finished watching Reply 1994 and felt that it would be a good time to take a break. We loved Reply '94 and we didn't want to dive into another drama that would have the misfortune of being compared to Reply. We picked Tune in for Love because of Jung Hae In whom we loved in Something in the Rain. Our timing was quite bad though. We were both exhausted and sleepy when we watched it. So we only saw the first half and decided to save the other half for some other time. We finished it eventually after watching Ms. Hammurabi.
Story
Tune in for Love tells the story of Mi Soo (Kim Go Eun) and Hyun Woo (Jung Hae In). Mi Soo worked in a bakery. Hyun Woo dropped by the bakery as Mi Soo was listening to a radio show. The two talked about the program briefly before Hyun Woo left.
Hyun Woo eventually worked at the bakery and revealed that he went to juvenile prison. Hyun Woo and Mi Soo grew close but their friendship/relationship was disrupted when Hyun Woo's friends appeared. Hyun Woo left with his friends and they got involved in a fight. Hyun Woo's probation was revoked so he was not able to go back to the bakery. The bakery closed down.
A few years later, Hyun Woo and Mi Soo met again but Hyun Woo was set to start his military service the following day. Mi Soo made an e-mail account for Hyun Woo so they can communicate. However, she forgot to give him the password.
After Hyun Woo finished his military service, he eventually figured out the password to his e-mail and he was able to reconnect with Mi Soo. They exchanged numbers and agreed to meet up. However, Hyun Woo's phone broke and their meeting did not push through again.
Several years later, Hyun Woo and Mi Soo saw each other again and Mi Soo was surprised to learn that Hyun Woo lived in her old apartment. They agreed to date. However, Hyun Woo's friends reappeared and they visited the house of their friend who died many years ago. One of Hyun Woo's friends told Mi Soo about his past. Mi Soo was fine with it and just wanted Hyun Woo to move on. But he was so devastated that Mi Soo found out so he left to confront his friend. Mi Soo left the house.
Hyun Woo now worked as a video editor for the radio program he and Mi Soo talked about at the start of the movie. Hyun Woo asked the host to greet Mi Soo on air. Mi Soo heard it and she dashed off to the radio station. The two get together again.
The Good
Jung Hae In and Kim Go Eun were perfect for their characters. Kim Go Eun was charming and appealing. She had a sweet smile and you can feel her pain through her tears.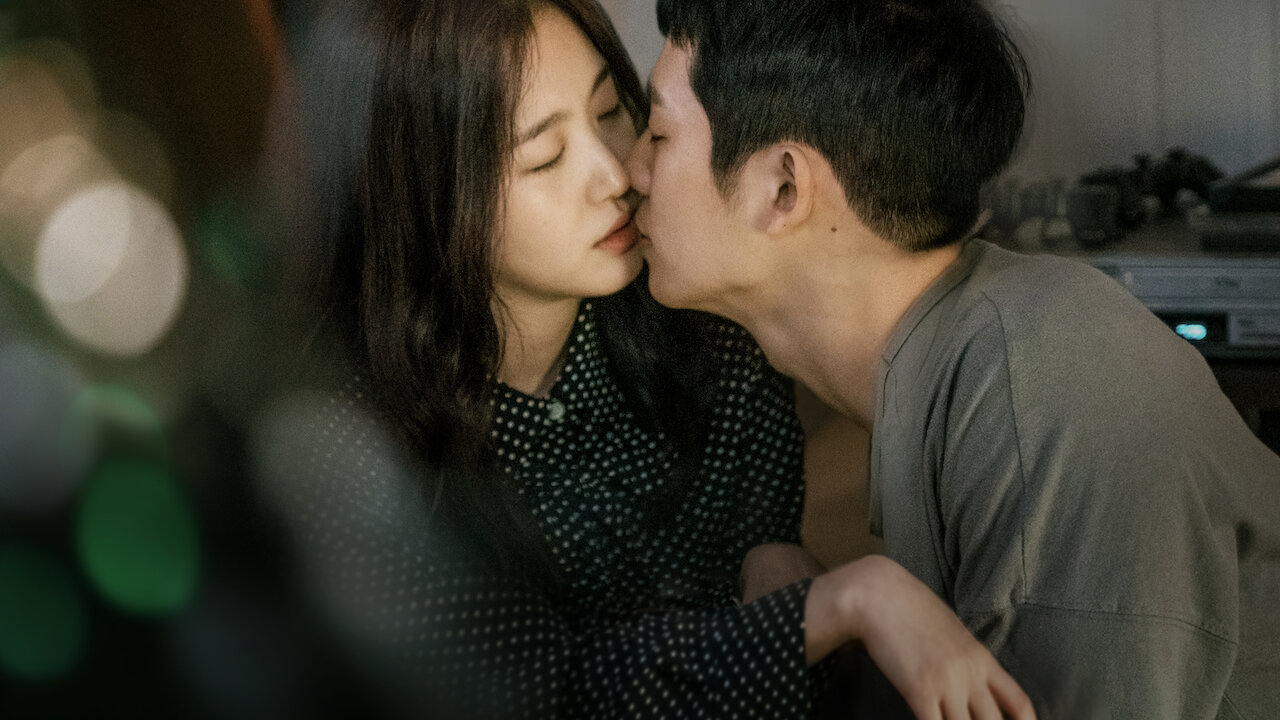 Jung Hae In still had that boyish charm from Something in the Rain but he also exuded that dark vibe consistent with his problematic past. I liked how different his kisses were here compared to those in Something in the Rain where he gave the most passionate kisses. His kisses here were unsure, scared, and lacked confidence, probably due to the insecurities of his character. I love actors who can transition to different characters and this movie just gave me more reason to love Jung Hae In. I love his depth and I'm so excited to watch him on Prison Playbook that we're watching right now.
I liked how the movie used a radio program to begin and end (happily hopefully) Mi Soo and Hyun Woo's love story. It may sound simple but I prefer simple storylines over magical but unreal ones.
Over all, however, the movie did not appeal to us. I'll talk about that later. But the use of the song Fix You by Coldplay really helped us appreciate the movie more.

We love the song. And it was definitely perfect for this movie. I felt Hyun Woo's frustration. He wanted to change and have a better life. However, the circumstances were always against him. The lyrics "when you try your best but you don't succeed" was like a gist of Hyun Woo's life. He really tried but things just refused to go his way. Hopefully, with the ending, he will finally allow Mi Soo to be that person who will fix him.
The Bad
As I mentioned above, the storyline was pretty simple and normally, I would have liked it. However, the constant hide-and-seek between Hyun Woo and Mi Soo was quite exhausting. I lost count of how many times they were supposed to see each other then it didn't push through. (That's why I had to make a summary in the story section above). While the scenarios were mostly plausible, I just felt that they were overused.
When Hyun Woo left for his military service, I was wondering if he never mentioned to Mi Soo where he was going to be assigned. If he did, Mi Soo would have known where to visit him.
I get that the movie wants us to know that when two people are destined for each other, fate will find a way to bring them back together. That's cute. But there are probably more creative ways of making all the hide-and-seek appealing for the viewers (maybe something like Crash Landing On You).
Over all, the movie is just okay. The premise was nice but the way the story was written was quite lacking. Although don't take my word for it. I would probably need to watch it again with a clearer mind.
Oppa says...4.
Noona says...it's a 4.