Our family watches TV during meals. For Oppa and I, that's usually the only time we get to watch TV. We normally watch the news or some sports shows. In the past few months, when Oppa and I began watching K dramas together, we began exploring Korean channels as well. Oppa just thought of checking out these channels one dinner time and we've been hooked ever since. Our little boy enjoys watching these Korean shows with us too.
The first channel we watched was tvN so it became our sort of default Korean channel. They're showing a couple of variety shows, probably because it's summer time in Korea and we've grown fond of some of them. I thought we'd write short reviews for each for our future reference. :)
Hometown Flex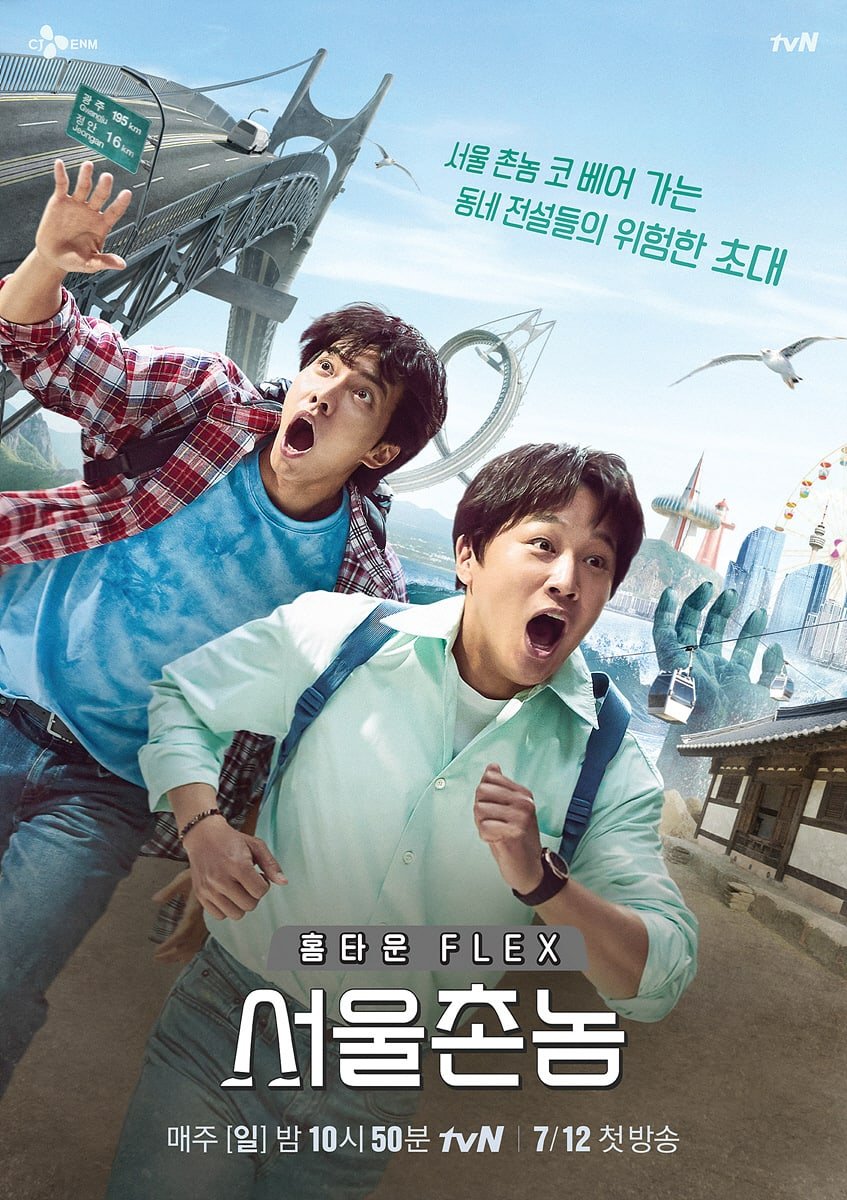 Hometown Flex is hosted by Lee Seung Gi and Cha Tae Hyun. For each episode, they have guest celebrities who come from the same province. They go back to that province and help their guests reminisce about their past.
We've watched Seung Gi in Vagabond. I was already impressed with him there. But I was even more impressed with him after watching Hometown Flex. He's such a funny guy.
I though I didn't know Tae Hyun. But turns out he was the lead actor in My Sassy Girl, my first ever exposure to Korean entertainment. He looks more quiet than Seung Gi but he's just as funny.
Although we were not able to watch all of the episodes, we really enjoyed those that we were able to catch. It greatly helped that the hosts were naturally funny so it was easy to build rapport with their guests. Even the shy guests had no choice but to engage with everyone else because the hosts were very friendly and warm.
One of the episodes we loved was the Cheongju episode that featured Han Hyo Joo and Lee Beom Soo. It was funny when the Cheongju guys were defending how they communicate - you have to ask them three times before you can get their real answer such as when you're asking them if they want to meet with you. Hyo Joo was so charming and Beom Soo was very funny.
Probably the funniest episode that we watched was the Daejeon one featuring international golfer Park Se Ri and actors Kim Jun Ho and Han Da Gam. Se Ri and Jun Ho were so funny, especially when they were bickering. Their games were super hilarious too. I loved their Daejeon song. You can find it towards the end of this video.
We loved the show because it was both funny and nostalgic. It was great to see these stars visiting their old schools and homes and meeting with old teachers and friends. It's always nice to look back to where all these celebrities came from before they became popular. And the picturesque scenes were just so lovely to look at.
Oppa says...4.7.
Noona says...4.5.
House on Wheels
House on Wheels is a show hosted by Sung Dong Il, Kim Hee Won, and Yeo Jin Goo. The three guys drive a trailer to some secluded place in the countryside. They park the trailer near mountains or lakes and spend some time there with their celebrity guests who are friends with at least one of the hosts.
We love Dong Il from Reply 1988, Reply 1994, Prison Playbook, and Ms. Hammurabi. I've seen Hee Won in Angry Mom, where he played a really scary character. It was very refreshing to see him in a chill and laidback show.
We're not familiar with Jin Goo but we've grown fond of him, probably because he's the youngest among the three and while they loved to tease him, they also cared for him like their baby.
Like all of the other variety shows, we were not able to watch all of the episodes of House on Wheels. But we know that all of them were nice and fun, judging by the chemistry of the three hosts and how warm they were to their guests.
We loved the episode with IU. For someone very popular, she was so kind, sweet, simple, and down to earth. She starred in Hotel del Luna with Jin Goo and it was quite obvious that the hosts were "shipping" the two of them. IU was so cute and unassuming. :)
We also loved the episode with Jung Eun Ji, Dong Il's daughter in Reply 1997. It was so evident that Dong Il loved her so much and he was so proud of her as his first daughter. They were so sweet and affectionate towards each other. And Dong Il revealed that he loved Eun Ji so much because he knew she was good to her parents. Dong Il is such a loving father. :)
Oppa was able to watch the first episode where Lee Hye Ri and Ra Mi Ran of Reply 1988 were the guests. He said the show was very funny too.
It was hilarious to see the hosts tease each other. I loved that episode where Hee Won was so proud of the tteokbokki he made for his friends but it didn't turn out okay. And that episode where Hee Won and Dong Il failed to guess the dish that Jin Goo cooked. And that fishing episode where Dong Il was bragging about how he always goes fishing but he was the only one among the hosts and guest who was not able to catch anything.
It's very easy to love House on Wheels. It was so relaxing to see the hosts with their friends enjoying some time with nature. It was also nice to learn about the stories behind those friendships. For an industry where they say you can't have permanent friends, it was great to know that such strong bonds can actually be formed and maintained.
Oppa says...4.7.
Noona says...4.5.
Summer Vacation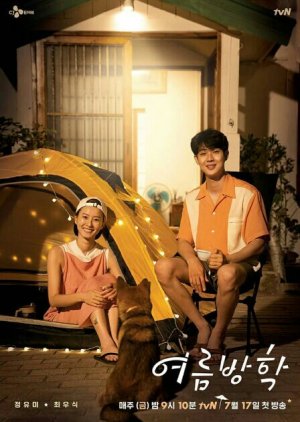 Summer Vacation is hosted by Jung Yu Mi and Choi Woo Shik. The two friends lived in a house in Goseong in Gangwon province for around 20 days. They had celebrity friends come over to visit them. Concept is pretty much similar to House on Wheels, except that they're not moving to different places.
Prior to this show, we did not know Yu Mi and Woo Shik. We were totally clueless about them. But we've grown to love them.
Yu Mi is so nice and cute. She's so pretty regardless of what she wears or how she fixes herself. She has a very charming and smiling face.
Woo Shik is like your funny but lazy little brother. He's cute and adorable.
We loved the episode with Lee Sun Gyun (Woo Shik's co-star in Parasite) and Park Hee Soon. The two guys were so hardworking. They cooked, cleaned, washed the dishes, etc. Yu Mi and Woo Shik were so pampered when they had these two as their guests.
We also loved the episode with Ahn Sohee (the hosts' co-star in Train to Busan) and Yong Bin. Sohee was so cute and it was obvious that Woo Shik liked her. Their banters were so funny.
Our son's most favorite character in Summer Vacation would have to be Poppi, the dog. We've seen him grow in just a matter of few days. He was initially wary of Yu Mi but he eventually warmed up to her as well. We're just concerned how Poppi handled Yu Mi and Woo Shik's departure.
We've read some bad reviews about the show, primarily due to some historical/cultural concerns. But since we are not experts in Korean history and culture, we are not going to comment on those things.
Over all, we loved the show. It was refreshing to see these celebrities in their natural form, i.e., they're not acting some character. We loved Woo Shik and Yu Mi's chemistry. We loved them both so much that we were finally able to watch Parasite and Train to Busan. It was nice to see them do normal things like cooking, cleaning, shopping, and entertaining guests.
Oppa says...4.7.
Noona says...4.5.
We'll really miss watching these variety shows. They've been replaced by new shows that don't seem as fun and interesting. Dong Il mentioned that there will be another season for House on Wheels. Woo Shik wanted a winter vacation. :D Well, we're hoping that we'll get to see more of these shows again soon. :)