After watching a forgettable drama and movie, Oppa and I needed to watch something good again. We're still putting off watching Reply 1997 because that would mean the end of our Reply journey. My brother watched Prison Playbook and told me that it was funny, similar to the Reply series. So we decided to watch it next. And we were definitely not disappointed. This show just cemented our love, respect, and admiration for director Shin Won-Ho.
Story
Prison Playbook tells the story of Kim Je Hyuk (Park Hae Soo), a professional baseball player, who killed a man who was sexually assaulting his sister Kim Je Hee (Lim Hwa Young). Everyone thought Je Hyuk would be acquitted since he committed the act in defense of his sister. However, he was sentenced to one year imprisonment. The drama revolved around how Je Hyuk adjusted to and survived life in prison.
The Really, Really Good
Prison Playbook is our third show from this director. I noted some trends that we observed in the Reply series in my review of Reply 1994. I would like to add that this director also loves having national treasures in his shows through his athlete characters - Taek as a grandmaster go-gamer in Reply 1988, Chilbong as a major league baseball player in Reply 1994, and Je Hyuk as an accomplished baseball player headed to the major league in this drama. This is yet another reason for us to love this director.
Execution
Coming from the Reply series, I would have to admit that the pilot episode of Prison Playbook was not as grand or as funny. The build-up was quite slow especially during the first episode. Oppa, who was probably interested because of the baseball player, was disappointed when Je Hyuk was convicted because that meant the end of his baseball storyline. But the first episode picked up eventually when Je Hyuk met his best friend and former teammate Lee Joon Ho (Jung Kyung Ho) who was now a corrections officer.
I loved how the show took on a very dark and difficult topic - prison life, which is perceived to be sad and dreary. Surprisingly, however, Prison Playbook was still able to present this story in a funny (albeit with a dark kind of humor) way without being unrealistic and disrespectful of the struggles of the inmates. Yes, it won't compare to the gasping-for-breath laughs I got from Reply but it was still funny.
One thing we love about the director is how he takes character development seriously. We've seen that in Reply. But he took it to a totally different level here. This was definitely more challenging to do in Prison Playbook because there were a lot of characters involved. It was not just one neighborhood or group of friends. Here, we have a cell, a wing, and an entire prison compound. Yet, Prison Playbook was able to creatively and seamlessly present the back stories for most of its important characters. I've seen other dramas try this but they often end up disjointed and confusing. The way these back stories were integrated to the main story in Prison Playbook was just so brilliantly thought of.
Park Hae Soo as Kim Je Hyuk
This is our first exposure to Park Hae Soo and I would have to say that we were thoroughly impressed. He does not have that oppa vibe but his splendid acting will surely captivate you.
When we first saw him, our initial impression was he was just like Trash in Reply 1994 - his built, his personality (although Je Hyuk was probably more serious), his demeanor.
Just like Trash, Je Hyuk appeared gullible, indifferent, and slow but he was actually a very keen observer and totally proactive. I loved how he paid for the surgery of Jailbird's (Kim Sung Cheol) mom, helped the errand boy get rid of Seagull, and fixed the cameras in the yard to capture Chief Jo Ji Ho 's (Sung Dong Il) corruption. He always thought of brilliant ways to get out of sticky situations like how he took his enemy Crony (Ahn Chang Hwan) under his wings and outwitted Chief Yeom who was extorting money from him.
I loved how Je Hyuk slowly adapted to prison life. I saw his reluctance in the beginning, probably because he was not sure if he was going to be there for a long time, pending his appeal. But when his appeal was denied, he did all he could to make the most out of his life in jail.
I was totally amazed with Park Hae Soo's control as an actor. I loved how he let it all out when the jail warden threw him a birthday surprise in the green house but he spoiled it for everyone by announcing that he was quitting baseball and telling everyone that he was a stomach cancer survivor. The control and the build-up to that point was just wonderful.
Everyone loved Je Hyuk because he was persistent amidst many obstacles. Yes, he was truly like a phoenix. But the best thing about him was how great he was as a person. He was very kind and considerate. I loved that his only condition for signing up with a team after his release was media control to avoid hurting his sister even more. He didn't care about the pay, etc. And as an aside, I loved it that the only team that had the balls to accept this condition had a woman for its general manager. I super love this director's effort in always having strong women characters in his dramas.
While Je Hyuk also had flaws, these were still in a way connected to his kindness, like avoiding his girlfriend after losing a match so as not to affect her mood as well. He definitely deserved all the good things that came his way because he worked so hard for them.
Jung Kyung Ho as Lee Joon Ho
I first saw Jung Kyung Ho on Crash Landing on You where he had some cameos as Se Ri's date. He didn't make much of an impact on me. I did not like his outfits there.
After watching Prison Playbook, I would have to say I'm already a Jung Kyung Ho fan. No, he still does not meet my standards for an oppa the way Hyun Bin or even Jung Hae In did. But there's definitely something appealing about Jung Kyung Ho.
Joon Ho had this certain cuteness to him, especially during his scenes with Je Hee. I liked how relaxed their love story was. It just came so naturally and I was so happy for Je Hee that she was finally with her childhood crush. The way he cared for Je Hee was just the sweetest. It was funny when Je Hee said that Joon Ho still sounded sweet even when he was scolding her that she had no choice but to admit her mistake.
Among the numerous bromances in this show, I would have to say that my most favorite one was Joon Ho and Je Hyuk's. Although they drifted apart, the lost years could not erase the strong bond that this two had. I loved how Je Hyuk still referred to Joon Ho as his best friend, most favorite friend, and most trusted person. And Joon Ho really proved that he was worth all those titles by being utterly loyal to Je Hyuk. I loved the lengths he went to to quietly protect his friend. He followed him to Seobu Penitentiary and he was even willing to let him escape prison after his appeal was denied. And how he helped him train to get back in shape. And the crazy things he did to help Je Hyuk overcome his Steve Blass disease. Among all of the people around Je Hyuk, Joon Ho was the one who genuinely advocated for him.
And because of his amazing personality, I am now confused if I like Joon Ho or Jung Kyung Ho. And he just gave me another reason to look forward to Hospital Playlist. :D
Je Hyuk's Other Bromances
Since Je Hyuk was a wonderful person, it was not surprising that a lot of people gravitated towards him. His bromance was not limited to Joon Ho. He was such a playboy. :D
Jailbird was one of the first recipients of Je Hyuk's generosity. And oh how he repaid it. When they first parted ways, Jailbird was crying because he regretted not thanking Je Hyuk sooner for what he did for his mom. However, he had been expressing his gratitude the entire time by helping Je Hyuk with the jail jargon and adjust to prison life. I was glad they were reunited later on and how Je Hyuk hired Jailbird after they were released. I hope Jailbird would not waste that opportunity.
Crony started out as a villain. He stabbed Je Hyuk. Things between Je Hyuk and Crony were definitely not pretty. And just when I thought Je Hyuk was already going to kill Crony, he did something totally amazing - he asked Crony to be his catcher. He knew that Crony was a follower who was looking for a boss to please. And instead of letting him fall into the hands of the bad guys, Je Hyuk decided that he should just take him under his wings. It was a huge gamble but it really paid off. This bromance is proof that it pays to be kind to get people's loyalty (the way that lifer saved Je Hyuk too). I loved how Crony said that Je Hyuk was the first one to treat him like a human being in jail. I hope he remained human even after Je Hyuk was released.
Although theirs was more of an online bromance, I still loved Je Hyuk's relationship with Joon Ho's brother, Joon Dol (Kim Kyung Nam). Joon Dol was a true blue fanatic. Oh how he weeped everytime his idol suffered a misfortune. And how he bugged his brother to make sure Je Hyuk was safe.
Je Hyuk and Ji Ho
Ji Ho (Krystal Jung) was Je Hyuk's ex-girlfriend. She started out as a constant visitor. It was funny how everytime she visited Je Hyuk, they would talk about how they've already broken up yet they still continued to see each other. It all stopped, however, when Je Hyuk asked Ji Ho to stop visiting him.
Although the main character in this drama was not a girl (unlike in the Reply series), I loved how we still got a strong girl character here. While her appearances were limited, there was no question that Ji Ho was the wind beneath Je Hyuk's wings. She knew him inside out. She was his voice of reason. She thought of a very creative (and funny) way of making Je Hyuk return to baseball without hurting his pride by making it appear that he dreamt of his late coach who was disappointed because he quit baseball. She also thought of a way to help him overcome his Steve Blass disease and get rid of Chief Yeom's extortion.
Joon Ho was definitely right when he said that Je Hyuk should worship Ji Ho because she did a lot of great things for him. And I'm glad Je Hyuk came to his senses and got back together with Ji Ho before it was too late.
Squad Goals
It would seem weird to root for a group of friends who are prisoners. But these guys from Cell 2-6 did just that to me. Their friendship was solid. When Crony first arrived in their cell, I was not scared at all because I knew everyone had Je Hyuk's back. And I was so right. The way they guarded him was crazy. I totally loved how they scared the gangsters, complete with props and tools. I felt bad everytime someone had to leave.
Han Yang / Looney
Initially, Looney (Lee Kyu Hyung) was just this annoying druggie who loved to bug everyone. But as the show progressed, we find out that there's more to Looney beyond drugs. He was a smart guy. And he was a good friend too. I loved how he helped stop Je Hyuk from drinking the dope planted by Crony. I totally loved his little bromance with Je Hyuk when he let Looney sleep on his lap.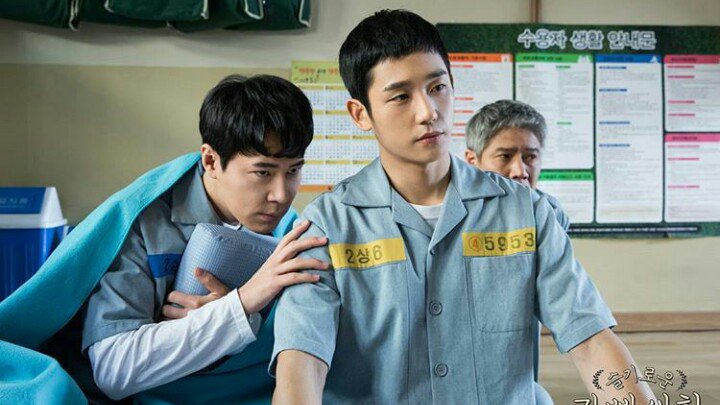 I also loved his relationship with Captain Yoo Jeong Woo (Jung Hae In). They would always fight but Jeong Woo did not hesitate to help save Looney from the other druggies.
Lee Kyu Hyung is a great actor. His depth as an actor really emerged as we learned about his very sad back story.
One reason why Looney is one of my favorite characters is because he had a great storyline. I loved how brave the show was in tackling drugs and homosexuality.
I've seen some K dramas touch on homosexuality. Unfortunately, it was something they made fun of in a very slapstick way. Prison Playbook is probably the first K drama I've watched that seriously tackled this topic. The guys held hands (and even kissed although this was not shown) and they were affectionate towards each other. But I loved how the show did not sugarcoat things. It showed the sad reality that homosexuality is still not widely accepted - the way Jeong Woo felt towards Looney.
I liked how the show dealt with drug addiction as an illness that is very difficult to overcome. I felt terrible with Looney's ending. He worked so hard to get to where he was and I was so disappointed with how he caved in right after being released from jail. I felt bad for all his cellmates (especially Jeong Woo) and the corrections officers who helped him recover. But that's what's so great about Prison Playbook - it's not afraid to offend as it paints a picture of reality. Because that is really the sad truth - it's hard to recover from drug addiction. And probably the show wanted to get the message across that you should never mess with drugs because once you get into it, your life is totally ruined.
I was just wondering if it's really standard procedure to entrap druggies who were just released from jail. I just found it quite harsh and unfair that they had to subject Looney to that kind of dilemma as soon as he was released.
Min Chul
Choi Moo Sung was definitely perfect as Min Chul. There's something very gangster-y about him but there's also that soft and fatherly side. It was refreshing to see a more talkative version of Moo Sung compared to his quiet character in Reply 1988.
He was really a fitting father to his cellmates. He genuinely cared for them. He took the fall for Jean Valjean. He was willing to finish his sentence despite his parole to help Je Hyuk deal with Chief Yeom. He commanded both fear and respect from the people around him. Among all of the characters, he was probably the most deserving of a happy ending because he was just so kind to everyone. I was glad that Jean Valjean and his daughter were there to welcome him during his release.
P.S. I really found that reference to Park Bo Gum really funny.
Jeong Woo
I first fell in love with Jung Hae In in Something in the Rain. I referred to him as my baby face oppa. He showed some angry streaks in Tune in for Love. But he was full on angry here that he's now badass baby face oppa. He was so scary that the label Demon Captain was perfect for him. I loved how versatile Jung Hae In is as an actor. After watching just two shows and a movie, he has already shown me his depth as an actor.
I loved how Jeong Woo slowly integrated to his cellmates. He looked tough and scary but he was actually a very caring friend. He helped Je Hyuk work out (I loved those topless scenes haha). He saved Looney from the druggies. He deserved that happy ending because he was a good person who suffered a huge injustice.
Dr. Ko
Dr. Ko (Jung Min Sung) is your typical fussy and annoying friend but you can't get rid of him because he's very helpful and caring. I loved how he took it upon himself to fight for the rights of prisoners with his numerous petitions. What made me really like Dr. Ko was his loyalty to Je Hyuk shown through that training diary he prepared for him. It was too bad that he was transferred before we could see if he got his happy ending.
Kaist
Kaist (Park Ho San) was probably my least favorite among Je Hyuk's cellmates. He was loud and violent. But I appreciated him more when he became the donor for his son's liver transplant. That somehow humanized him to me. Unfortunately, I did not have the chance to like him more because he was transferred right after that happened.
Lieutenant Paeng
Lt. Paeng (Jung Woong In) was a very rough corrections officer. He loved to curse and yell at the inmates. But among all the corrections officers, he was probably the most humane and he truly cared for the prisoners. He allowed Je Hyuk to train. He apologized to Jeong Woo when he misjudged him when he saved a prison guard who suffered a heart attack. He bought outside food for Dr. Ko when he was hospitalized. He let Jeong Woo open up about his case. He helped Dr. Ko record his conversation with his corrupt boss. He refused to tell an inmate that his sister did not want to see him even if that inmate kept on cursing him because he'd rather be cursed at than break that inmate's heart. He knew how to deal with the inmates and despite his cursing and yelling, he was the perfect officer for them.
Music
I don't think Prison Playbook used a lot of songs but the few songs they chose were really nice and poignant. I can't wait to listen to the OST.
The intro theme was nice. It had this rapping beat.
Two of my favorite songs are below:
Prison Life
As I mentioned above, I loved how the show tackled prison life in a respectful way. Prison Playbook humanized prisoners without necessarily glorifying them. It showed us that these people have lives too.
The use of hope as a theme was handled really well because it did not feel preachy at all. No toxic positivity either. It taught us that everyone can be useful when given the chance as seen in how the inmates excelled in the wood shop, green house, etc.
The drama also gave us a glimpse of the sad reality that in jail, you can't really have permanent friends because anyone can be transferred anytime.
After watching Prison Playbook, I can't help but feel hopeful for all prisons to be run the way Seobu Penitentiary was ran. If all prisons had reform in mind then we would probably have a much better society.
Injustice
One theme that resonated throughout the show was injustice - how some of them did not really deserve to be there and were just victims of injustice. Dr. Ko and Jeong Woo were scapegoats who were wrongly accused of their crimes. Je Hyuk did what he did because he was defending his sister.
I liked how the show tried to balance this theme by showing that while injustice mostly happens to the poor, weak, and oppressed, it can also happen to influential people like Je Hyuk. Probably out of fear of being accused of favoring him and giving him special treatment, the court decided against Je Hyuk even if what he did could be categorized as a crime of passion.
And I loved how the show did not judge or try to unrealistically solve things for the oppressed. It showed us that unfortunately, things are not always black and white and while we're stuck in the middle of all that injustice, we just need to find ways to survive the way these characters did.
Je Hyuk articulated it perfectly when he said that sometimes even if you try your best and work the hardest, the world just refuses to give you a chance. It's a fitting reminder for everyone to be kind and to provide opportunities for everyone.
The Not so Good
There's nothing much, really. There were some loop holes here and there like how Joon Ho did not know who Je Hyuk's girlfriend was even if he was such a big celebrity. I feel that these flaws are so small that I can just forget all about them.
Judgment
We breezed through the 16 episodes without us realizing it. The ending sneaked up on us the way the unannounced transfers of the inmates did. Prison Playbook was one of those shows that I definitely did not want to end.
But having said that, I would have to agree with Oppa that Prison Playbook's ending was much more satisfying compared to the ones we got from Reply. We did not need a reunion to see how everyone was doing because all of the stories were solid. The show closed the loop on everything and everyone, which was very challenging with the number of characters involved here. Even minor characters like Captain Na had a little back story. Yes, I still missed Dr. Ko, Kaist, and Looney, and I wondered how they were doing but I was generally satisfied with their stories by the time they left.
I would have to say that Prison Playbook is a man's K drama. I loved how it did not exploit the drama story arcs like when Min Chul was released. Although his daughter and Jean Valjean were there, the show was contented in just mentioning that they were there without seeing any need to show a weepy dramatic reunion. This would be a good gateway K drama for guys.
Over all, I loved it. I was able to appreciate the dark humor and the masculine storyline because it still had all the things we love in K dramas (and more).
Oppa says...5.
Noona says...it's a 5.